Today we might call St. Wilfrid a "brick and mortar" bishop, comparing him to the Spellmans and Stritchs who built the American church. He believed a bishop needed a large territory, wealth, and political power to allow him to plant new churches and found monasteries and schools. But Wilfrid was also a courageous evangelist and pastor who personally converted thousands of pagans and reared them in the faith.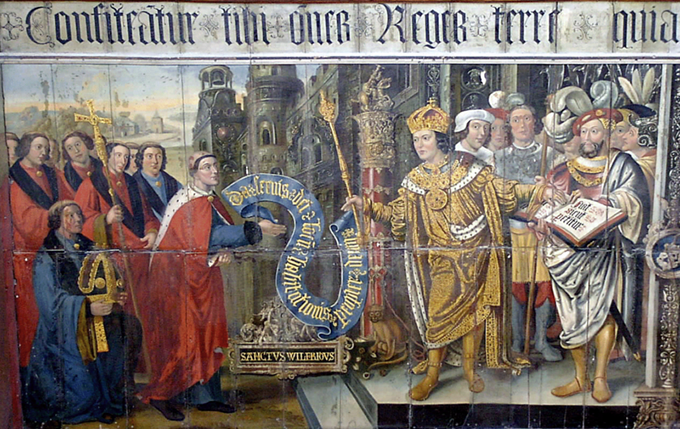 A Celtic monk of Lindisfarne and abbot of the new Celtic monastery at Ripon, nonetheless Wilfrid championed Roman influence in Anglo-Saxon England. In 663 he persuaded the famous Synod of Whitby to settle the controversy over the date of Easter by choosing the Roman method of calculation. A few years later he became bishop of Northumbria, a vast arena for his mission of expanding and consolidating the church. He planted many new Catholic communities.
Among them was the new monastery at Hexam, where Wilfrid had constructed the largest church north of the Alps. Three times in Wilfrid's long episcopacy kings exiled him, and each time he appealed to the pope, who upheld his claims. Thus he strengthened the Anglo-Saxon pattern of maintaining close ties with the church at Rome. During his first exile in 678, Wilfrid was sidetracked on his way to Rome and spent some months preaching to pagans in Frisia, establishing the Anglo- Saxon mission to Germany. During his second forced exile, Wilfrid took the Christian faith to the people of Wessex and Sussex.
For many months the evangelical preacher spoke eloquently, the long sweep of his words covering everything Almighty God did to put idolatry to shame. Then Wilfrid found grace in the sight of the king and a great gateway of faith opened for him. On one day he baptized many thousands of pagans (as the Apostle Peter did) of both sexes who forsook idolatry and professed faith in Almighty God. After his third exile from 692 to 703, Wilfrid returned to end his controversial life as bishop of Hexam. He died in 709 at Oundle, a monastery he had founded in Mercia.
Image credit: The Handing over of the Charter by Lambert Barnard, 16th century. Public Domain via Wikimedia.