There are some saints of whom we know very little. People from all over the world may honor them. Shrines and churches may be built in their names. But the facts and details of their lives have faded from our memories or their stories may never have been recorded.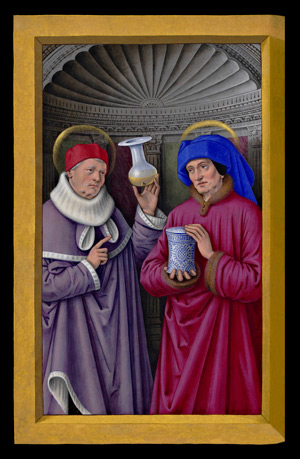 Cosmas and Damian are saints like these. Little is known about them except that they suffered martyrdom for their faith in Syria sometime during the persecutions of Diocletian (around 303). We may never know exactly what happened, but we do know that their witness to the faith was so strong that people turned to them for prayerful help and passed their story on to others.
Legends about these two saints abound. According to these stories, Cosmas and Damian were twin brothers, born in Arabia, who went to Syria to study and practice medicine. But they were concerned about more than healing bodies. They brought their belief in Christ to those to whom they ministered. Not only that, but they also served people without charging any fees. Lysias, the governor of Celicia, heard about these two brothers and he summoned them before him. When Cosmas and Damian proclaimed they were Christians, Lysias had them tortured and finally beheaded. Devotion to these two brothers grew, and many cures were said to have been worked through their intercessions. Later a church in their honor was constructed over the site of their burial. When the Emperor Justinian was sick, he prayed to Saints Cosmas and Damian for a cure. Out of gratitude for receiving this favor, he enlarged the city of Cyr and its church. Numerous other churches were erected for them at Constantinople and Rome. Their names are also included in the First Eucharistic Prayer.
If so little about these saints is actually known, why do we honor them? Part of the answer can be found in tradition. When so many believers continue to honor the memory of martyrs, year after year and all over the world, there is good reason to believe that their lives were true witnesses to the Gospel. People who live and die according to their convictions and faith give hope to the world long after their deaths. Their lives can inspire us and encourage us to be faithful during our little trials and sorrows.
---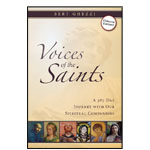 from Voices of the Saints, by Bert Ghezzi
Image credit: Saints Cosmas and Damian by Jean Bourdichon, 1508. Public Domain via Wikimedia.