Saint Marcellinus was a priest who lived about 300, probably in Rome. One day, an exorcist named Peter, who was in prison because of his faith in Jesus, asked Marcellinus to baptize the jailer and his family, whom Peter had converted.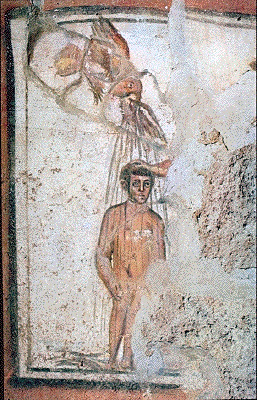 When the governor learned that Marcellinus had baptized Peter's converts, he called both men into court. He ordered them to offer incense to the false gods. When they refused, the governor commanded his soldiers to behead them. They were tortured before they were killed. They suffered quietly and joyfully because they loved Jesus and knew that he was waiting for them. Several years later, Constantine, the new Christian emperor, had a church built over the place where these martyrs were buried.
---
Suggestions
Instruct the class to read and dramatize Acts of the Apostles 16:25–34.

Have the students find which saints are included in Eucharistic Prayer I.
---
Image credit: Fresco on the catacomb of Saints Marcellinus and Peter by unknown artist, unknown date. Public Domain via Wikimedia.