We do not know much about Nereus and Achilleus except that they were among the first martyrs to be venerated as saints. It seems that both men were Roman soldiers who persecuted Christians until they themselves were converted to Christianity.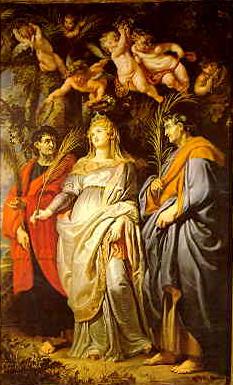 In order to live their new faith, they resigned from the army and left Rome. Eventually, Nereus and Achilleus were captured and put to death for their beliefs, perhaps in the second century. Saint Damasus, one of the first popes, wrote the epitaph for their tombstone. In it, he stated that it was love for Christ and a desire to witness to their new faith that inspired Nereus and Achilleus to "throw away their shields, their armor, and their bloodstained javelins" and give up their lives in martyrdom.
---
Suggestions
Have the students find a short prayer for modern-day martyrs, write it on a small sheet of paper, and pray it during the day.
---
Excerpted from Christ Our Life, by Sisters of Notre Dame of Chardon, Ohio
Image credit: Flavia Domitilla van Terracina, Nereus en Achilleus by Peter Paul Rubens, 1608. Public Domain via Wikimedia.