Imagine that seven famous businessmen in New York left their homes and careers today to live together in solitude and prayer. The world would be surprised and led to reflect on its values.
Seven wealthy, well-known cloth merchants lived in Florence, Italy in the mid-thirteenth century: Bonfilius, Monaldi, John Bonagiunta, Gerard Sostegni, Bartholomew Amidei, Benedict dell'Antella, Ricoverus Uguccione, and Alexis Falconieri. They found themselves in a society in which many people ignored God's law. Riches and the easy life meant more to these people than the love of the poor and service to the needy. These seven men decided to withdraw from the city and to lead lives of prayer and penance. They chose to turn their lived over to God and give witness to all that is good and true.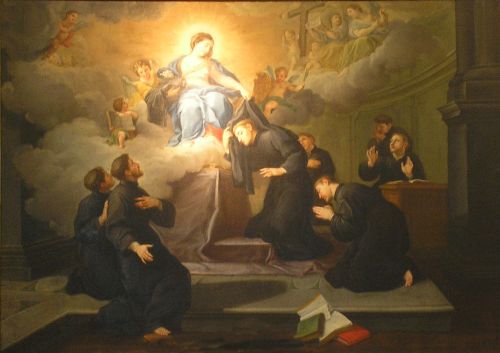 It took great courage for these men to leave their prosperous businesses and live a life of prayer and penance. They had been leaders in society, so their decision to change their way of living caused a stir and inspired others to rethink their values and make some changes in their lives.
This group of men fostered devotion to the Blessed Virgin, particularly in her seven sorrows. They called themselves the Servants of Mary or Servites. Eventually all the founders but Alexis were ordained. When their order was finally approved, Alexis was the only founder still living.
---
from Saints Kit
Image credit: The Seven Holy Founders of he Servite Order receiving their habit from Our Lady by unknown artist, 18th century. Public Domain via Wikimedia.