No matter who you are or where you are in life, you can love God and love his people. Our saints let us see this clearly, because they come from all walks of life and from all over the world. One such saint is the Venerable Pierre Toussaint, who began his life as a slave.
Pierre was born around 1766 in Haiti, which is about one-third of an island in the Caribbean Sea. At this time, Haiti was one of the wealthiest places on earth. It was owned by the French, who grew rich from the sugar cane grown on the island.

In Haiti, enslaved people from Africa were brought to work the land after disease killed off most of the island's native peoples. Pierre was a descendent of these African slaves.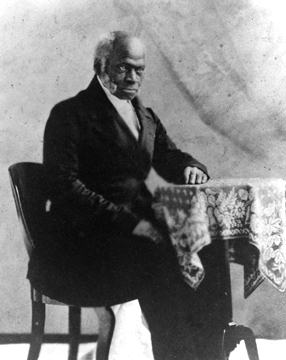 In 1793, the slaves in Haiti were getting more and more dissatisfied, and it was clear that war would come soon. The Bérard family, with Pierre as one of their slaves, moved to New York, and soon after they began what they had hoped would be a short stay, rebellion broke out back home. They heard the news that their plantation had been burned to the ground, and Monsieur Bérard died.
Madame Bérard was left without anything and anyone to help her. Except, of course, Pierre.
In New York, Pierre had been training in what you might think of as an unusual job: he'd been learning how to be a hairdresser. In those days, hairdressing was about a lot more than haircuts. If you can remember pictures you've seen of ladies during that time, you'll recall that hairstyles, especially for wealthy women, were very fancy, with hair stacked high, and lots of curls and ribbons hanging from the mountain of hair on their heads. It took skill to put a look like that together. It took time, and it took money. It seems as if Pierre was in just the right profession, after all.
From the time that Monsieur Bérard died, it was Pierre Toussaint who supported the family. He worked for sixteen hours a day, going from home to home, fixing the wealthy women's hair. The money he earned was enough to support the household until Madame Bérard died. When she died, she gave Pierre his freedom, and now, free of other obligations, Pierre was finally able to marry Juliette, the young woman he loved.
Of course, being a good hairdresser isn't what makes Pierre Toussaint a saint. During his long life, he was a strong witness to the love of God to all he met. He was completely dedicated to living the virtue of charity.
Pierre spoke of God's love and the beauty of the Catholic faith to his customers and others, most of whom weren't Catholic and many of whom didn't really like Catholics very much. He brought sick people into his home and cared for them. He went into neighborhoods devastated by fevers and plague, places where everyone else was too frightened to go, and brought help to the sick who had often been abandoned by their own families.
Mother Elizabeth Seton—another saint who lived in New York during this time—started an orphanage in 1817. Pierre Toussaint provided a great deal of the support for the orphanage. He gave of his own money and constantly collected donations from his customers.
Pierre and Juliette also were important in the founding of the first New York Catholic school for black children. And they supported a group of black women who were trying to form their own religious order of sisters.
When Pierre Toussaint died in 1853 at the age of eighty-seven, he was well-known in New York City for his love and generosity. The newspapers even carried articles about all he had done for the poor people of New York and how deep his love for God was. In a time when black people were treated badly, were bought and sold as property, and were seen as inferior to white people, it says a great deal about Pierre Toussaint's holiness and his importance in New York that the newspapers would even mention that he had died, much less offer him great praise!
Yes, the world is a big, busy place full of great need, and we are so small. All of us—grown-ups, too—wonder sometimes whether we can make a difference when we're just one person and the world is full of so many people who need God's love. The story of Venerable Pierre Toussaint teaches us to not wonder about such things and to not be discouraged by how the world sees us.
He was born a slave in the world's eyes, but through the virtue of charity that he shared with all he met, he brought the warmth of God's love into countless lives. No matter who we are or where we are, no matter how small the world tries to make us feel, we can always and everywhere practice the virtue of charity and share God's love with everyone in our life.
---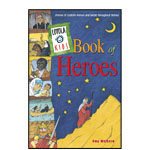 from Loyola Kids Books of Heroes
Image credit: Venerable Pierre Toussaint, Philanthropist by unknown artist, 2006. Public Domain via Wikimedia.