The Beatitudes are an insider's guide to the Christian life, inasmuch as they describe what it's like to be on mission in the world. Every customary marker of success, Jesus suggests, is wrong—and what appears to be difficult may in fact be a sign of fidelity to building God's kingdom.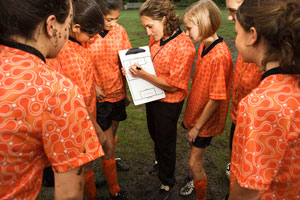 I imagine what it might be like to be part of a great team embarking on a hoped-for championship season. The coach tells the team members of the hardships they will face, the struggles they will have to overcome in order to achieve victory. A good coach will be honest about what the team members must face so that they will not lose heart when, inevitably, things don't always go as hoped.
In the Beatitudes, Christ takes a similar approach, suggesting that the distant hope for building the kingdom will involve highs and lows. He tells his students that this mission will be arduous but that the reward will be heaven itself.
Whose good is Christ calling you to serve? Are you willing to be reviled for the work to which Christ has called you? Are you willing to take a stand on behalf of those who have not the power to stand for themselves, and work tirelessly in the face of harassment? If so, Jesus says, you are blessed.