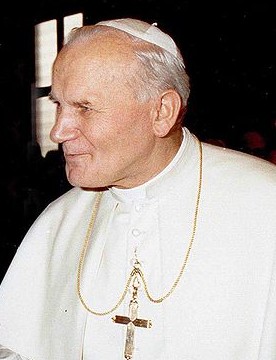 The ceremony for the canonization of John Paul II took place in 2014. To celebrate this event, Loyola Press offers resources on his life and gifts to the world.
The magnitude of Pope John Paul II's accomplishments, and the sheer volume of his writings, can obscure a crucial fact about him. Within this great man—world statesman, theologian, philosopher, church leader—beat the heart of a pastor. John Paul II knew something about how men and women could find God. He understood much about how the power of God can be released in our lives. His supreme desire was that we come to embrace a faith that transforms the way we live, the way we relate to other people, the way we work.
John Paul II left us a legacy of hope and peace that we remember as we celebrate the canonization.
Biography of John Paul II
Biographical Sketch and Timeline
Pope John Paul II Was Influenced by Pope John XXIII
Pope John Paul II and His Message of Forgiveness
Pope John Paul II and Young People
Selected Writings of John Paul II
Holy Spirit and Seat of Wisdom: A Prayer by John Paul II
Prayer to the Virgin of Guadalupe
Related Books from Loyola Press
By John Paul II

$12.95

John Paul II speaks from the heart about what matters most to him—and to us.

By John Paul II

$12.95

Pope John Paul II imparts words of wisdom, inspiration, and love in one hundred meditations on living the Christian life.