It is my first "Catholic" memory and my first memory as a Catholic: May Crowning. The songs are still—and always—in my head.
Hail, holy Queen enthroned above, oh Maria.
Hail, mother of mercy and of love, oh Maria.
Triumph all ye cherubim, Sing with us ye seraphim.
Heaven and earth resound the hymn.
Salve, Salve, Salve Regina.
I wish that all children were welcomed into the fold of Catholic faith with the innocence and tenderness of singing seraphim, with a mother of mercy and love.
One of the defining aspects of being Catholic is devotion to Mary. I favor no Marian celebration more highly than May Crowning, the feast that recognizes Mary as queen of heaven and earth. To a person of any age, this is a mighty big title, but to a child of five or six or seven, it expands to enchanting, magical proportions. How many queens does one get a chance to meet in a lifetime, much less crown?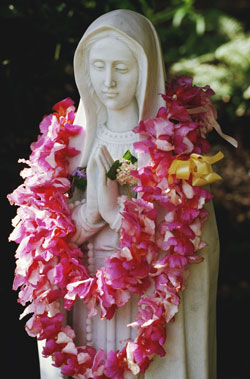 Thus, preparing for the May Crowning procession each spring at St. Raphael's, the church of my childhood, was a monumental and joyful task. My imagination may be filling in some of the details, but this is what I remember most. We practiced "Immaculate Mary" and "Hail, Holy Queen" until we knew the lyrics by heart. We girls put on our spring dresses and white tights, the boys their scratchy Sunday shirts and ties. We practiced "processing" with dignity and grace and with as few wiggles and squirms as our young bodies could manage. Some lucky second-grade girl would be chosen to crown Mary, not based on merit, but rather based entirely on whether she fit into the dress one of the local women had made for the ceremony many years earlier.
The rest of the children at St. Raphael's were assigned a very simple but very important role in the procession: we were each charged with bringing one flower to place at Mary's feet. We would literally cover the area around her in flowers, pretty much the most charming and romantic expression my young heart could imagine. I took on the selection of my flower with zeal: it was serious business, not to be dashed off quickly. The consideration required time and precision; like young parents trying to name their firstborn child, I thought about the future of the flower. How would it look lying prostrate as it was bunched with all the other local flora of the season? Would it hold its shape, its scent, its crowning beauty? Would it be worthy?
Spring came late to rural Minnesota. In the month of May, tulips were the first flowers to spring from the patch of garden in front of our garage. My mother (her name also Mary) planted them. As a five-year-old, I hovered over that patch of flora, examining each early bud while my large and loud family waited impatiently in the car. Finally, my mother, who often bore the brunt of my family's size and volume and impatient energy, said, "Just hurry up and pick one."
It was a strain to make a choice under such duress, but I finally settled on one pink and one yellow tulip—one flower for the Virgin Mary, and one flower for my mother, Mary. Scrubbed and dressed, with tights pulled up, and armed with my two prized tulips, I joined my brother and sisters in the backseat of our brown-paneled station wagon, and Dad drove us off to St. Raphael's.
Once there, and with as much pageantry and pomp as a farming community church could muster, we processed away, singing our "Ave Maria" and crowning our Mary while the angels kept us company. I imagined angels turned out in especially big numbers for Marian events, those "singing seraphim" that seemed often to appear in Mary's songs. I still think of that church as filled with angels, country angels, angels meant to protect country people, whose days were spent in labor over soil and crops and barnyard animals. Simple angels for simple people, scrubbed squeaky-clean for Mary and the Mass. I still remember the aroma of flowers, the coolness of the spring air, the lightness of spirit that lingered. The promise of everything made new.
May Crowning marked a new spiritual season. Our Mary, queen of heaven and earth, lifted us right out of the last long, cold days of winter and firmly planted our hearts in the warm and promising soil of spring.
I will be forever grateful to the church for bringing me Mary, and grateful to Mary for bringing me her Son. For that was my route. I might not have discovered the gaze of Jesus if I had not first felt the maternal, nurturing, and safe embrace of my mother in heaven. That's why we crown her on our Catholic version of Mother's Day. That's why I hovered over the tulips in front of the garage looking for just the right one. Through Mary, I became enamored of the holy family. Through Mary, I was invited into the Catholic fold. It was her feminine presence and the safety of her motherhood that helped me grow. My child's heart was so full of love for my mother in heaven and understood already what my head could not yet know: Mary would bring me to Jesus. The growing would be toward Jesus, for Jesus, with Jesus. Through Mary, Jesus was brought to you and to me. She was delivered up like an innocent, perfect spring flower to lighten our spirits, complete our senses, bring the very aroma of heaven to our world in need of warming, and welcome our hearts into the eternal mystery of spring and growing things.