O Come and Behold Him, Born the King of Angels…
I was happy to awake to this text from my daughter Judy:
"This morning [21-month-old] Emilio was up while the rest of us were still lying awake in bed. I was trying to figure out from the sounds where he was and narrowed it down to the kitchen. I went to investigate to see that he had pulled his chair up to the counter to do this…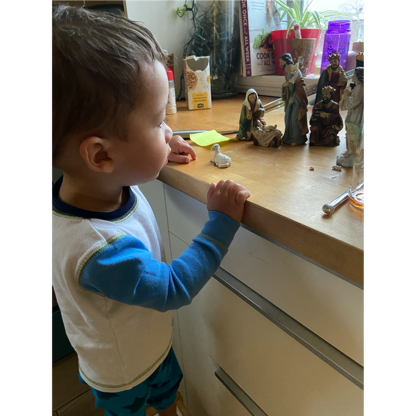 I had brought up the boxes of Christmas decorations yesterday and tucked them in the kitchen, and Leila [Emilio's big sister] started pulling things out. She had all these figurines arranged on their little breakfast table, so I put them on the counter thinking they would be safe and out of reach. Think again mama!"
This is how it happens, how faith gets instilled—through wonder and awe in the midst of daily living. I will take my grandson's lead this week and contemplate the scene where it all comes together—the angels, the star, the animals, the straw, the tender mother and stoic father, the visitors that include innkeepers, shepherds, midwife, and wise men. And of course, the infant Jesus at the center of it all, the Bread of Life, lying in a food trough—arms open wide.
Tom McGrath, author of Raising Faith-Filled Kids