Two Feet of Love in Action
As disciples of Jesus, we try to live as Jesus taught us. We are his disciples. We follow his teachings. We walk in his footsteps and try to live as he did. Walking in Jesus' footsteps has two parts. One part has to do with knowing what is right and fair and then using that knowledge to find solutions to problems on a local, national, or even global scale. The other part has to do with showing people that you care about them by offering help and aid.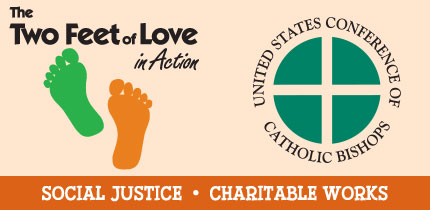 Disciples must take both steps to walk the path of love. To help children learn these important lessons, Loyola Press, in partnership with the USCCB—Department of Justice, Peace, and Human Development, has created two story books. These books and accompanying teaching materials help children learn how to live as Catholic disciples and put two feet of love in action.
Each story book in the series comes with discussion questions and blackline masters for catechists, teachers, and parents to help share that the Church teaches us that to work for foundational change is social justice, and to offer help to others when they are in need is doing charitable works. The teaching materials help explore how these concepts within each a story that children can understand.
---
---