Lo más probable es que hayas escuchado la expresión: "De tal palo, tal astilla". Significa que los hijos con frecuencia se parecen a sus padres. Las Sagradas Escrituras no nos dicen nada sobre los padres de la Santísima Virgen María. La Tradición nos dice que sus nombres fueron Ana y Joaquín. El nombre Ana significa "gracia", y el nombre Joaquín significa "el Señor juzgará". La Tradición también nos relata que Ana y Joaquín llevaron a su hija al Templo de Jerusalén cuando ella era muy joven. Ellos comprendieron que María era una niña muy especial y por eso la presentaron ante Dios.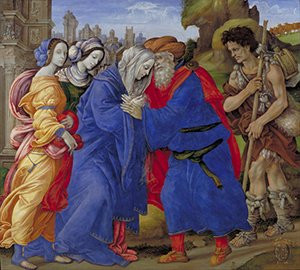 Sabemos que santa Ana y san Joaquín han sido honrados en la Iglesia de los primeros siglos. Al observar a María, su hija, podemos deducir varias cosas sobre ellos. Ellos dieron el ejemplo que María siguió para convertirse en la mujer amorosa, bondadosa, devota y valiente: la mujer perfecta para criar al Hijo de Dios.
Sin importar si los nombres de María fueron en realidad Ana o Joaquín, fue una pareja sagrada de héroes que fielmente preparó la venida del Mesías.
Debido a que Ana y Joaquín son los abuelos de Jesús, ellos son los santos patronos de los abuelos. Santa Ana es venerada en Canadá, donde se encuentra una basílica en su honor en Quebec.
Tomado de Saints Kit [Kit de los santos]
Image credit: The Meeting of Joachim and Anne outside the Golden Gate of Jerusalem by Filippino Lippi, 1497. Public Domain via Wikimedia.