La razón por la que Constantino iba a pelear al día siguiente era para decidir de una vez por todas quién debería ser el gobernante del Imperio romano.
Cuando su padre, Constancio, murió seis años antes, Constantino fue proclamado emperador. No cabía duda de eso. El problema era que uno de sus generales, el general Majencio, tenía otras ideas. Pensaba que él debía de ser emperador, y ahora el asunto se resolvería con una batalla cerca de un puente que cruzaba el río Tíber cerca de Roma.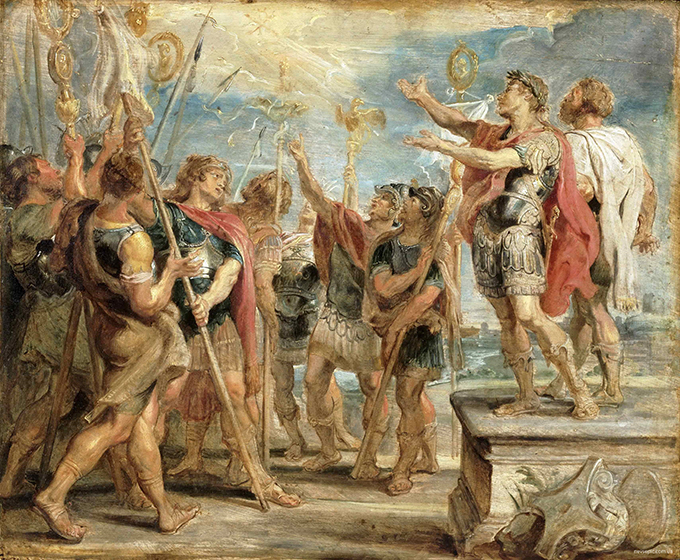 La noche antes de la batalla, Constantino tuvo un sueño. Jesús se le apareció en el sueño y le dijo que debía hacer de la cruz su propio símbolo y colocarla en todas las banderas y estandartes imperiales.
A la mañana siguiente, 28 de octubre del año 312, comenzó la batalla. Cuando el ejército del general Majencio comenzó a cruzar el puente, este se derrumbó, arrojando a muchos de sus soldados al río. Constantino ganó fácilmente.

---
Tomado de The Loyola Treasury of Saints [El tesoro de los santos de Loyola], por David Self
Image credit: The Emblem of Christ Appearing to Constantine by Peter Paul Rubens, 1622. Public Domain via Wikimedia.