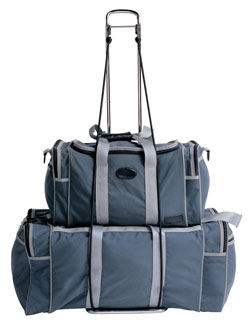 To begin with, I over-packed. I expected to get all sorts of extra projects done in the "spare time" that would magically materialize during the trip. Also, I couldn't figure out which clothes to take—why is it so hard to come up with the perfect outfit?
Then one of my bags was lost in transit, and I couldn't wait for it so continued the trip without it. I had to buy shampoo and some socks. Other than that, I didn't miss the bag. By the time I headed home, the bag was back in my possession. I set it down in the hallway at home and didn't open it for a week because I couldn't remember what was in it. And if I couldn't remember, then could anything in that bag be so important?
This makes me wonder how much energy I use up, day in and day out, hauling stuff around that isn't even important. What burdens have I taken upon myself that just take up space and make me tired and anxious?
I don't think we were meant to live this way—too many bags, and too much weight. I think God wants us to travel light and to enjoy the trip a lot more.