Parenting in today's culture is complicated and unprecedented with the growing technology gap between parents and their children, the ever-present use of social media, and the increase of anxiety and depression in children. More than ever, parents need to be empowered as leaders of their own Domestic Church to be able to guide their children toward a life of discipleship and healthy spirituality.
The Most Reverend Nelson J. Pérez, D.D., Archbishop of Philadelphia, offers his support of this program as one that is "very much needed in today's Church for today's parents". Click here to read Archbishop Pérez's full endorsement of the Forming Ministers of God's Love program!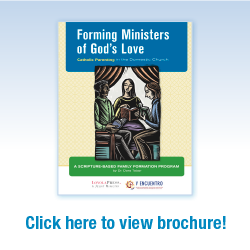 Forming Ministers of God's Love: Catholic Parenting in the Domestic Church gives parents a context in which to discuss real life daily struggles with a community of other parents centered on teachings and inspiration from Scripture to support their own and their children's spiritual development. This Bible-based program grows out of the belief that by participating actively in a supportive community, we experience God's guiding love as we navigate the challenges of daily life.
Forming Ministers of God's Love is a two-year program organized by thematic units and consists of weekly one-hour sessions. Each unit concludes with a celebration session led by the pastor or deacon, prepared by the participants, and focused on some aspect of the liturgy. A designated lead couple helps guide participants in sharing and learning together to foster dynamic discussions and community-building experiences.
Each session follows a three-step methodology. In Step 1, parents SEE their own reality. Parents reflect upon and are invited to share their present family situation in order to accept where they are at with an openness to change through an encounter with Jesus.
Step 2 guides parents to ENLIGHTEN their lives by providing a framework for discussing the issues talked about in Step 1 based on Scripture and church teaching.
Finally, in Step 3, parents discuss how they can apply the session concepts in their families as they LIVE according to the Word.
Program Structure and Themes