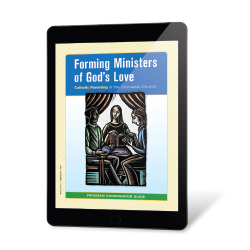 The Forming Ministers of God's Love Program Coordinator Guide is an online resource detailing everything needed to easily plan and effectively implement the program. A comprehensive Program Overview details the program and its components and provides a quick introduction to the program features. The included Scope & Sequence breaks down each Unit by Session and Celebration Theme, the Scripture for each Session, and Church Documents referenced.
The Planning, Implementing, and Organizing the Program section offers suggestions for planning and publicizing the program to parents who may be interested in participating. This section also provides tips and advice for organizing the logistics of the program.
Plans for providing Lead Couple and Participant orientation meetings are provided, along with pages to print and distribute at specified points in these meetings.
The Program Coordinator Guide even provides Templates for publicizing the program, for inviting participation, and for keeping participants updated throughout.