RELATED READING | ACTIVITIES | SPANISH
When we think about the difference that love can make, many people very often think of one person: Saint Mother Teresa of Calcutta. A tiny woman, just under five feet tall, with no tools except prayer, love, and the unique qualities God had given her, Mother Teresa is probably the most powerful symbol of the virtue of charity today.
Mother Teresa wasn't, of course, born with that name. Her parents named her Agnes—or Gonxha in her own language—when she was born to them in Albania, a country north of Greece.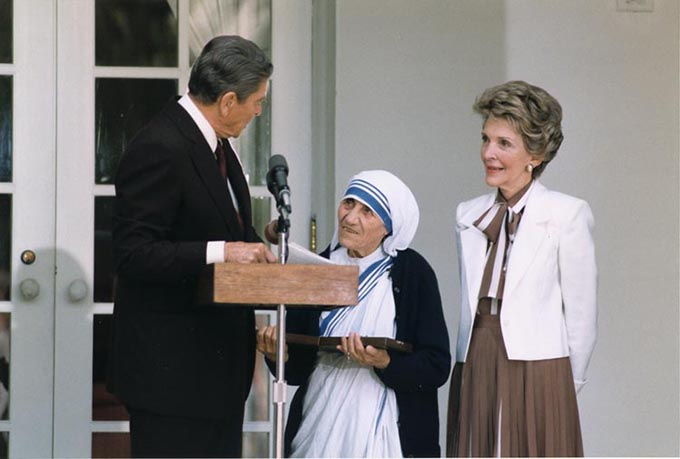 Agnes was one of four children. Her childhood was a busy, ordinary one. Although Agnes was very interested in missionary work around the world, as a child she didn't really think about becoming a nun; but when she turned 18, she felt that God was beginning to tug at her heart, to call her, asking her to follow him.
Now Agnes, like all of us, had a choice. She could have ignored the tug on her heart. She could have filled her life up with other things so maybe she wouldn't hear God's call. But of course, she didn't do that. She listened and followed, joining a religious order called the Sisters of Loreto, who were based in Dublin, Ireland.
After two months in Ireland, spent mostly learning how to speak English, Agnes got on a boat (in 1928, hardly anyone took trips by plane), and 37 days later she arrived in the beautiful, busy, complicated country of India.
In India, Agnes took her final vows as a sister and took the name Teresa, after Thérèse of Lisieux, the Little Flower. She spent 15 years teaching in a girl's school in Calcutta, a job that she loved and was very good at. But then one day, she heard that call again.
The voice in her heart was telling her that she was to make a very big change in her life—that she should leave her teaching position and go into the streets of Calcutta and care for the poor.
So Sister Teresa listened and said yes. She had lived in India for years, and she knew how desperate the poor of that country were, especially in the big cities. It was these people, the dying poor, that Sister Teresa felt a special call to love. After all, these were people who had absolutely no one else in the world to love them. Not only were they poor, but they were also dying. Why did their feelings matter? Wouldn't they be gone soon enough?
Teresa saw these people differently. She saw them through God's eyes, which means that she saw each of them as his dear child, suffering and yearning for some kind touch or word, some comfort in their last days on earth. She heard that call and chose to live it out—to let God love the forgotten ones through her charity.
As is the case with all great things, Teresa's efforts started out small. She got permission to leave her order, to live with the poor, and to dress like them, too. She changed her habit from the traditional one to the sari worn by Indian women. Her sari would be white with blue trim, the blue symbolizing the love of Mary. She didn't waste time, either. On her very first day among the poor of Calcutta, Mother Teresa started a school with five students, a school for poor children. That school still exists today. She quickly got some training in basic medical care and went right into the homes of the poor to help them.
Within two years, Teresa had been joined by other women in her efforts, all of them her former students. She was soon "Mother Teresa" because she was the head of a new religious order: the Missionaries of Charity.
The Missionaries of Charity tried to care for as many of the dying as they could. They bought an old Hindu temple and made it into what they called a home for the dying. Hospitals had no room or interest in caring for the dying—especially the dying poor—so the dying had no choice but to lie on the streets and suffer. The sisters knew this, so they didn't wait for the poor to come to them. They constantly roamed the streets, picking up what looked from the outside like nothing but a pile of rags, but was actually a sick child or a frail old person.
When a dying person came or was brought to Mother Teresa and her sisters, they were met with nothing but love. They were washed and given clean clothes, medicine, and—most important—someone who could hold their hand, listen, stroke their foreheads, and comfort them with love in their last days.
One of the most feared diseases in the world is leprosy. It's a terrible sickness that deadens a person's nerves and can even cause their fingers, toes, ears, and nose to eventually fall away. You know that in Jesus' time, lepers were kept away from communities. Lepers in poor countries like India, where they have a hard time getting the medicines to treat the disease, are often treated the same way.
So Mother Teresa saw people with leprosy in the same way—through God's loving eyes. She got the help of doctors and nurses, gathered lepers from the slums, and began treating and caring for them in a way that no one before her had tried to do.
Mother Teresa's work of love started out small, but it isn't small anymore. There are more than four thousand Missionaries of Charity today, living, praying, and caring for the helpless in more than a hundred different houses around the world, including in the United States.
Mother Teresa died in 1997, but even now, when we think about her work, we can learn all we need to know about love: It doesn't take any money or power to love. It doesn't take great talent or intelligence. It simply takes love.
Mother Teresa did wonderful, brave work in caring for the forgotten, but if there's one thing she would want you to remember about love, it's that you don't have to travel to foreign countries to practice the virtue of charity. In fact, love has to start where you live.
---
Excerpted from Loyola Kids Book of Heroes by Amy Welborn
Image credit: President Reagan presents Mother Teresa with the Medal of Freedom at a White House ceremony. By unknown artist, 1985. Public Domain via Wikimedia.
Pope Francis canonized her on September 4, 2016, during the Year of Mercy.
Related Reading
Mother Teresa and Doing Something Beautiful for God by James Martin, SJ
This pamphlet encapsulates the essential wisdom of Mother Teresa and includes reflection questions to spark discussion around and engagement with the core tenants of Mother Teresa's approach to a life of lived faith.

My Life with the Saints (10th Anniversary Edition)
James Martin, SJ





Loyola Kids Book of Heroes
Amy Welborn, Hardcover

This best-selling children's author encourages faith formation through the exciting stories of Catholic heroes and saints.
Activities
Hearts to Love and Hands to Serve: Celebrating the Life of Mother Teresa by Shannon Chisholm
Saints for the New Evangelization—Free PowerPoint Presentation by Joe Paprocki
Year of Mercy BLMs
Mother Teresa is a wonderful example of mercy. Celebrate with activities for primary, intermediate, and junior high levels.