What Catholics Know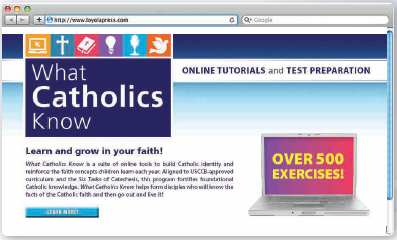 Online Tutorial Program


What Catholics Know is an online tutorial and test preparation program designed to help students of all ages learn and grow in their faith. This suite of online tools can support you in building Catholic identity and reinforcing the faith concepts children learn each year. Aligned to USCCB-approved curriculum, NCEA IFG: ACRE, and the Six Tasks of Catechesis, this program fortifies foundational Catholic knowledge through intentional and repeated practice. It helps fulfill the need to form knowledgeable disciples who can live a faith-filled life.

When your parish or school chooses Christ Our Life, we will include What Catholics Know FREE for your entire parish. Students can access the online tools of What Catholics Know through any Web browser. This flexible program can be used in class or at home, as a learning tutorial or test preparation.
Program Features
Exercises are self-guided, intuitive, and can be repeated
Students can progress at their own pace, regardless of their level
Immediate, detailed feedback is provided to students
Teachers and catechists can monitor progress through an easy-to-use reporting system
Comprehensive references are provided from Sacred Scripture and the Catechism of the Catholic Church
Detailed Program Coordinator Guide serves as a guide for implementation
Content and Doctrine
To reinforce students' knowledge of what the Church teaches, extensive references are made to:
Sacred Scripture
Catechism of the Catholic Church
Compendium of the Catechism of the Catholic Church
U.S. Catholic Catechism for Adults
Each exercise explains the correct answer by providing:
A rationale (the reason for the correct answer)
Detailed apologetics (a thorough explanation of Church teaching)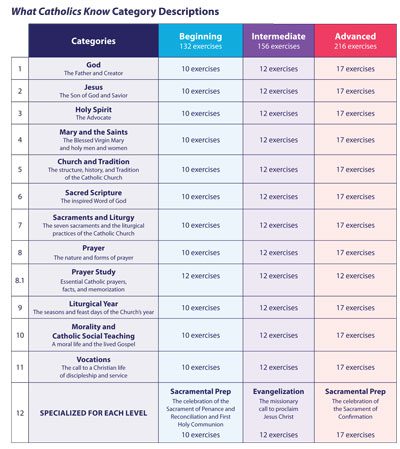 Levels of Study
What Catholics Know gives students practice at three different levels: Beginning, Intermediate, and Advanced. As students' knowledge grows, their faith broadens and deepens. The What Catholics Know exercises increase in difficulty and rigor with each level.