Helping Build Faithful Families
For a variety of reasons, parishes across the country are inviting parents to take an active role in the catechizing of their children. The Finding God Family Catechesis program makes this easy. Our Family Catechesis program is unique in that it helps parents grow in their own faith while they guide their children in core faith formation. This flexible and engaging program nurtures faith and helps build community.
How It Works
Finding God Family Catechesis combines parish-based group meetings and grade-specific instruction by trained catechists with at-home sessions guided by parents.

Each group meeting has three parts:
1. Welcome (15 minutes) for children and parents
Leader introduces the theme to families through prayer, sharing activity, Scripture, and discussion.
Children are then dismissed to their grade-level faith formation sessions.
2. Connect (30 minutes) for parents only
Leader covers the theme through multimedia and discussion in a more in-depth manner.
3. Close (15 minutes) for parents only
The group meeting concludes with a wrap-up, closing prayer, and invitation to catechize their children at home with easy-to-use At-Home lessons and Children's Books.
Components included in Family Catechesis

For the Leader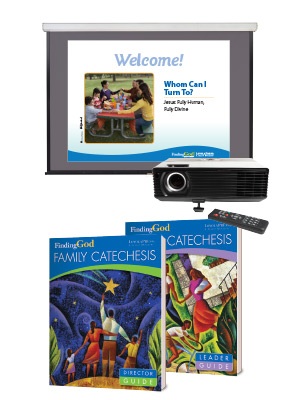 Slide Show Presentations – Informative PowerPoint presentations expand on each of the 5 unit themes and engage groups through use of visuals and media clips. Presentation notes are included with PowerPoint to assist in accurate delivery of the content. There are 7 unique PowerPoints, 5 following the specific unit themes and 2 seasonal presentations— one on Advent/Christmas and the other on Lent/Holy Week/Easter). Two bonus presentations introduce the program and components.
Director Guide – The Director Guide has everything needed to implement a successful family catechesis program in any parish, including suggestions for promoting the program, introducing the program to families, and alignment to popular family faith formation methods.
Leader Guide – The Leader Guide takes you step-by-step through the slide show presentations with preparation pages, audience-specific scripting, tips, and visual cues.
Additional Components you purchase and use in conjunction with the Family Catechesis program.
For Families
The Children's Book, At-Home Edition, and Interactive Session Reviews – Parents carry forward the unit content at home during individually paced lessons that suit the needs of their families' schedules, using the Children's Book together with the At-Home Edition. Interactive Session Reviews are an easy way to gauge children's understanding and monitor progress.
For Grade-Level Catechists
Parish Catechist Guide and Other Program Ancillaries – The Catechist Guide contains catechetical background, lesson plans, and scripting to help catechists confidently convey faith concepts. Grade-level catechists use this resource in conjunction with the Children's Book to teach the first session in each unit during the sessions.
Director Guide, and the Leader Guide, and presentations are all delivered digitally.