Forming Disciples of Jesus
Covering the full and authentic teachings of the Catholic Church and rooted in Scripture, Church Tradition, and Ignatian spirituality, Finding God: Our Response to God's Gifts™ starts children out on a life of intentional discipleship. This faith formation program for Kindergarten through Grade 8 helps foster a lived relationship with God through Jesus.
Embracing the spirituality of St. Ignatius of Loyola, Finding God provides all the tools to engage the whole child—mind, heart, and soul—uniquely guiding children to engage with Scripture, practice prayer and reflection, and to find God in all things.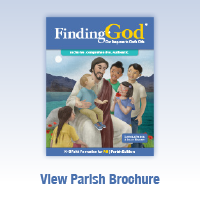 Finding God: Our Response to God's Gifts is based on a spiral curriculum that integrates the fundamental themes of the Catechism of the Catholic Church with Scripture and Catholic social teachings. As children are introduced to and revisit concepts and vocabulary from one year to the next, their knowledge and experience both broaden and deepen as they grow in faith as committed disciples of Jesus.
Grades 1 through 8 now invites students, teachers, catechists, and parents to fully recognize the presence of God through the use of multimedia. Finding God incorporates multimodal learning and utilizes multimedia to reinforce faith concepts, connect students with content, and enhance the learning process.
---
"Catechesis has to investigate new possibilities offered by the existence of the new technologies and imagine whole new models and systems if the Gospel message is to penetrate the culture, make sense to the next generation of Catholics, and bring about a response of faith."
- National Directory for Catechesis, Section 4.C.
---
Program Features & Benefits
Multimedia Content: Dynamically engage children, parents, catechists, and teachers with animations, narrated videos, interactive activities, and audio clips.
STREAM Projects for Schools: A Science, Technology, Religion, Engineering, Art, Math small-group activity is included in every unit in Grades 1-6.
Abundant Scripture: Included in every session opener, Scripture is also highlighted in the With My Family pages and is the focus of scripture posters and BLMs
Special sections on the foundations of the Catholic faith: Glossary of terms, lessons on major feasts and seasons in the liturgical year, and Prayers and Practices of Our Faith all give children a deeper understanding of the Catholic faith.
Reflection and Prayer: Guided reflections help children form a rich prayer life, which is essential for authentic discipleship. Finding God helps children integrate traditional prayer into daily life.
Multimodal Learning: Exploring Faith Through Art prints, spoken word tracks, music, and videos serve a variety of learning styles.
Additional family resources: Practical resources such as family e-newsletters, an at-home edition, and prayer books support at-home faith life.
Family Catechesis: Program provides parishes with the tools to help parents connect with their own faith while they participate in the catechesis of their children at home.
Flipped Classroom Model: Grades 7 and 8 are offered not only as a traditional model with enhanced multimedia, but also in a Flipped Classroom format to allow for ease of implementation whether you are teaching in person, hybrid, or remote!